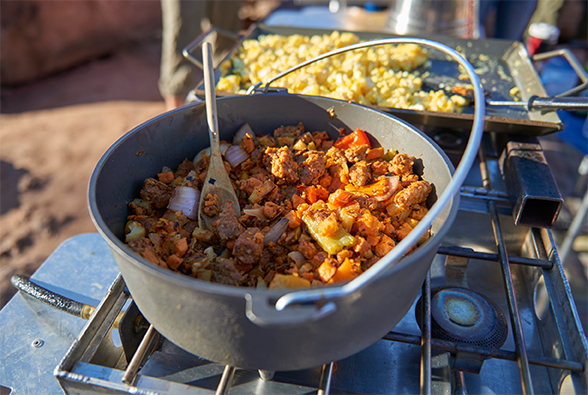 River Meal Cookoff
When: Thursday, July 18th, 2019
Time: 6:00 pm - 8:00 pm Serving Starts at 6:30pm so arrive with enough time to prep your meal. Final judging begins at 7:30pm.
Where: Down River Equipment 11937 West I-70 Frontage Road North, Wheat Ridge, CO 80033 (click for map)
What: It's hard to beat a home-cooked meal on the river, but you can always improve. Right? Attend DRE's River Meal Cookoff and learn new recipes, as well as tips and tricks to take your next outdoor meal from basic to gourmet while making your workload easier. Bring your favorite river meal and everything you need to prepare it. We will also have a river cocktail competition so mix up your favorite river beverage and be prepared to share! Come on out to eat, drink, and be merry!
Please Read: Down River will provide charcoal, seating and tables, along with beverages and power strips for any crock pots. Trash will be collected by DRE staff at the end of the night. Paper supplies i.e. plates, bowls, forks and spoons will also be supplied by Down River. We ask that the competitors provide their own serving utensils, stoves, firepits or any extras they may need for their entry.
Discounts: 10% Off Cooking Supplies.
Prizes: People's Choice winner will receive a special prize to be determined by our panel of judges. 1st Place Meal Winner will receive a Golden Engraved Spatula (Solid Gold)! 1st Place Cocktail winner will receive a Golden Chalice (Pimp Cup)!