Have you ever heard the name, Herm Hoops? Once you do, you'll never forget it. An east-coaster drawn out west by the expansive desert and wild rivers, he has devoted his life to environmental stewardship and river running.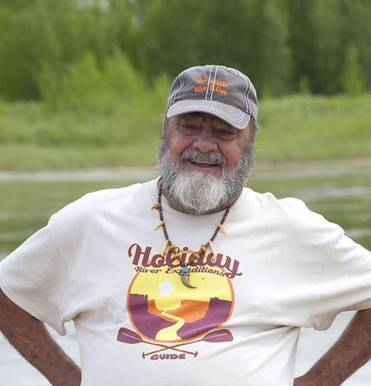 He knew his place in this world was meant to be atop floating rubber encased by canyon walls. In 1965, Herm saw people rafting through the Grand Canyon on a television program and he knew he needed to try it. It was in 1971 when he first saw Echo Park and ran through Dinosaur National Monument, thus igniting his love affair with the Green River.
The Green River has always felt like home to him. He eventually settled down in Jensen, Utah working in Dinosaur National Monument after walking away from his established teaching career in Vermont to run rivers in the west. If you were to ask him, the desert chose him and not the other way around.
He was most recently honored by the River Management Society (RMS) with the Outstanding Contribution to River Management Award. His work in Dinosaur National Monument included, but was not limited to, youth programming, informational signage, poetic musings about the river and vivid storytelling. However, the legacy he will leave behind is not only of conservation efforts but also one of a river outlaw who pursued mischievous troublemaking and bending every rule in the name of fun.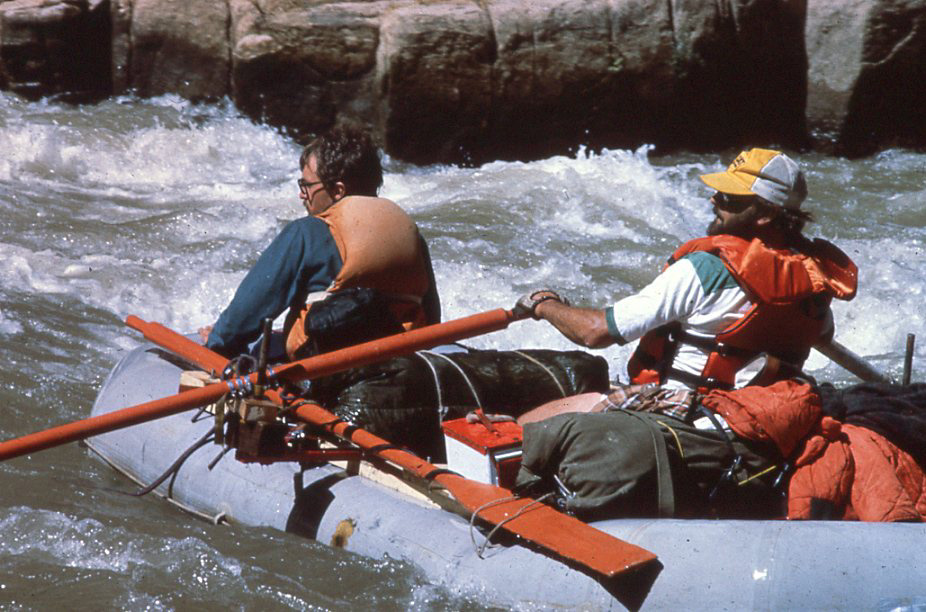 He is best known by his friends for his jokes and pranks unless they were the ones at the butt end of it. His joking nature borders on crass and intentionally crosses boundaries. He is often surrounded by a cloud of smoke and spots of bacon grease on his shirt could have been from any time of day because to him, it's not just a breakfast meat. It's a meal all on its own, the perfect snack, or something to keep your jaw busy when you're not pulling on a cigarette. He is a feral human and perfectly encapsulates everything you think of a 1970's boater — an unruly beard, grown out uncombed hair, leathered skin, and hands like sandpaper.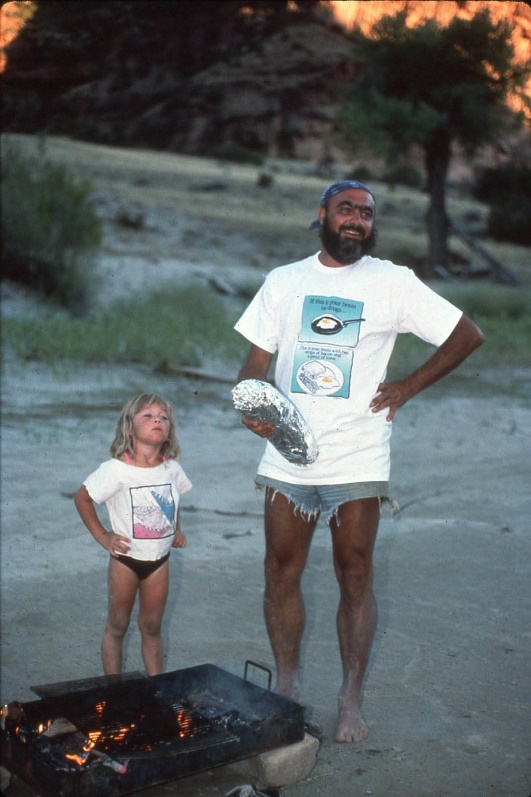 Try to tell Herm that he can't do something and see what happens. In the early 1970s, he ran Gates of Lodore without a permit after being denied one through a series of unfortunate events. His solution was to row at night, calculate the river ranger's schedule and only bring gear he didn't mind being confiscated in case he and his two friends were caught. Although, that wasn't enough to satisfy Herm. He also had to leave his calling card, a half gallon of Yukon Jack, on the front porch of the Ranger Station.
There were plenty of close calls. He should have been caught while his boat was hanging on a rock at Disaster Falls —or when he miscalculated the river ranger's schedule and drifted by them at Pot Creek, shrinking like turtles inside their own lifejackets as they pass within 40 feet of the law.
Sometimes he provoked the attention of the authorities, for no other reason than a good laugh. Like the time he repurposed one of the "RAPIDS AHEAD" signs from above Warm Springs and Big Joe rapids on the Yampa. Him and an anonymous friend, armed with a shovel, a bag of quick drying concrete and the mask of darkness, they installed the sign on the primitive Westwater boat ramp. To be sure it couldn't be easily removed, they rounded off the bolts.
That's just Herm's life in a nutshell, enough thrill to make for another great campfire story but of little consequence. If you have the chance to share river stories with him, he will tell you how he never learned to wait for warmer spring weather before heading down to Desperation/Play Canyon, as he lovingly refers to it.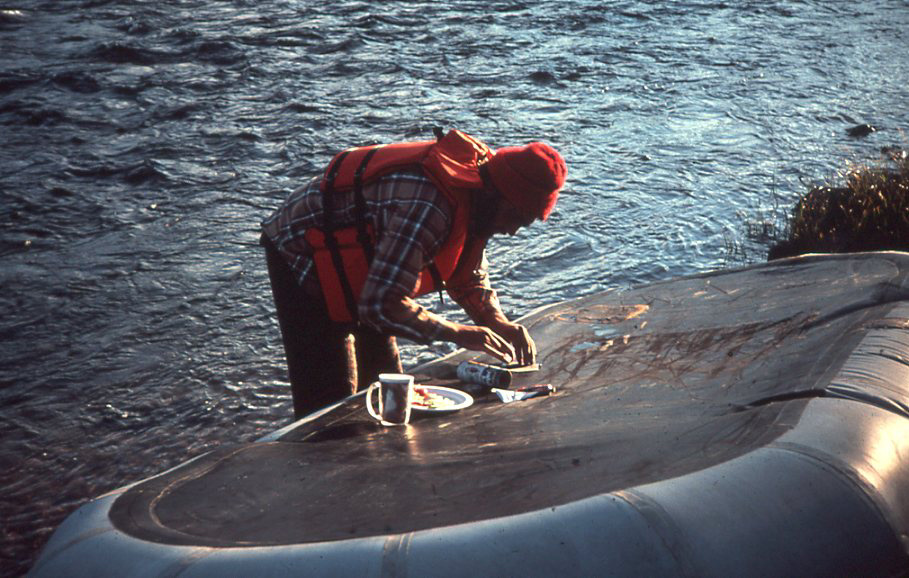 There are too many times to count that he should have frozen to death in Desolation Canyon on eager April trips. He has had his boat encased in slabs of ice that have broken free from higher elevations to pool in the flats outside of Sand Wash. He has come close to hypothermia while camping alone at Cedar Ridge, falling asleep on the fire and burning a hole through his life jacket, his brain frozen and no longer thinking clearly as the snow fell all around him.
In October of 2018, Hoops took what he has projected to be his very last trip down his cherished Green River. It was his 123rd time experiencing Desolation/Gray Canyon. At 72 years old, his body has betrayed him — he is battling prostate cancer that has traveled into his lymph. He could no longer load and unload his own boat, something he had long ago decided would define the end of his river running career.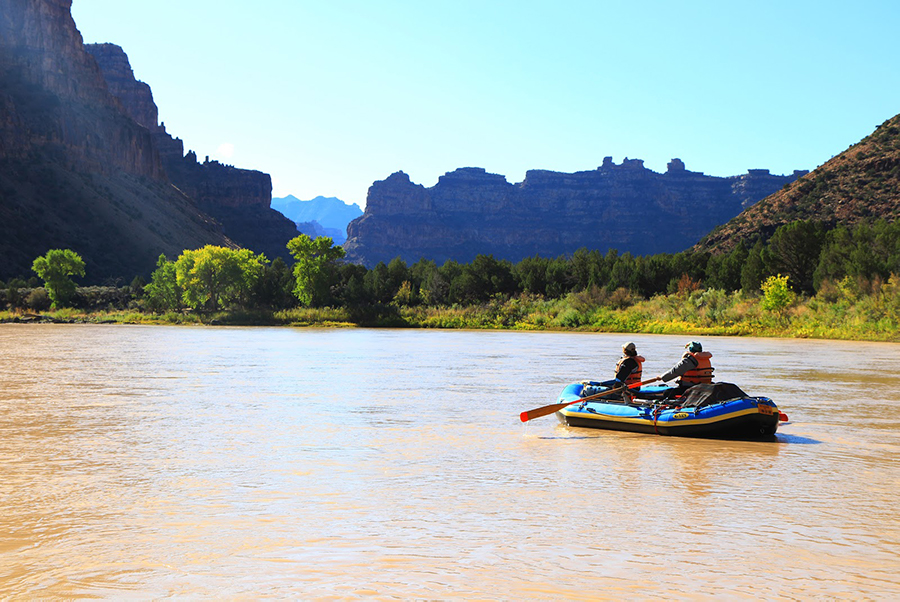 With 5 oxygen tanks, a portable oxygen generator, a car battery to recharge it, and a support team of experienced river runners, he went to say his goodbyes. He held on to each precious millisecond spent drifting in the morning sun, listening to the canyon wrens and letting the memories wash over him.
Today you'll find him among abundant boating paraphernalia in his garage back in Jensen, poised behind his computer sending letters to lawmakers and developers to tell them to stay off his goddamn lawn. He casts a wide net by sending out proposed bills and letters of interest to the boating community to enlist others in the fight he has been waging for decades. As long as the rivers continue to flow, Hoops will continue to give them a voice.
The following is an excerpt from Herm's journals:
"There are outlaws of laws and outlaws of morals. Most certainly those who circumvent the intent of man-created and natural laws are outlaws. Society's laws dictate that water in the west be reserved for "beneficial use" -ventures of commerce. When John Wesley Powell traversed the canyons of the Green and Colorado Rivers in 1869 he clearly saw the limits of water availability in the arid West. Ignoring Powell's insight, we have become over dependant upon the water of the River and we go on as if it's a limitless supply that will never run short.
Maybe we are all outlaws?"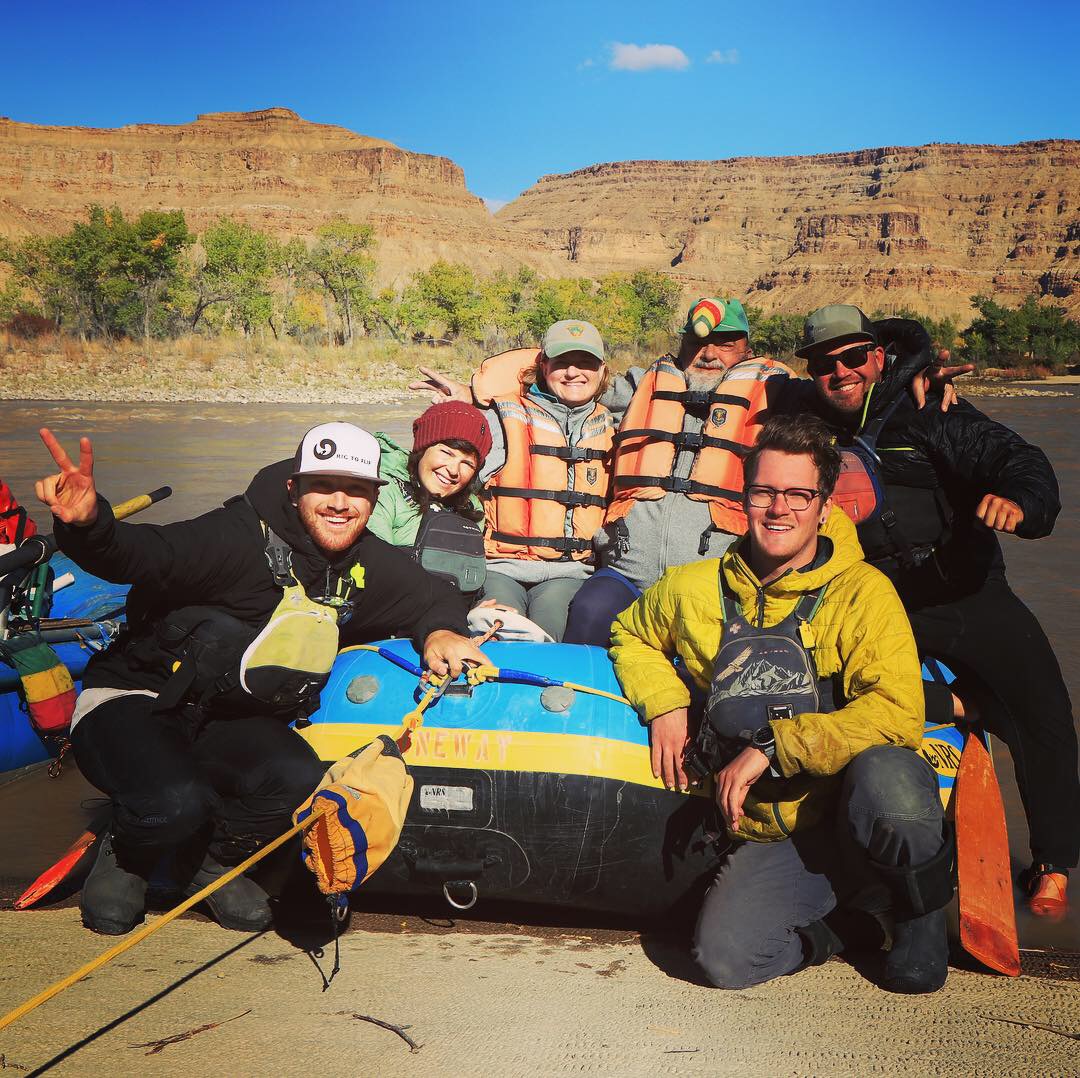 The media company, Rig to Flip, is working in partnership with Down River Equipment, NRS and Jack's Plastic Welding on a film honoring the life of Herm Hoops projected to be completed in the fall of 2019. Catch a glimpse of what's in store by watching the trailer here.