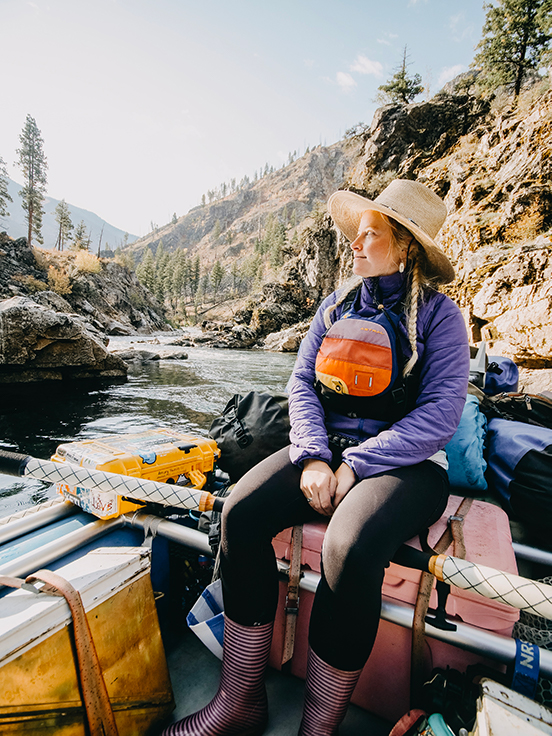 It's that time of year again; autumn has arrived, and I'm looking back at my past few months thinking, "Where the heck did my summer go??" As a boater, this can be a melancholy time of year. Gone are the warm afternoons of summer boating and the even more distant spring boating days filled with high water and adrenaline. The leaves are changing colors, temperatures are dropping, and so are the flows. Most people seem to think this is the time to swap out those oars for a pumpkin spice latte, roll up the raft and eat some pumpkin pie. I'm here to tell you that not only is fall boating possible, it can even be fun with the right knowledge and techniques.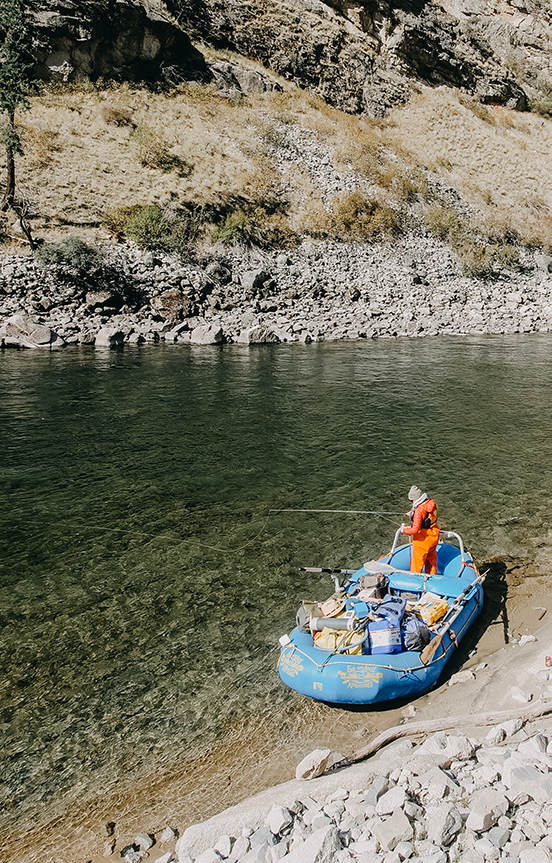 I grew up boating in California; it literally never rains here so I would consider myself to be an expert low-water boater. Here are some of my best tips for getting on the water this fall:
1. Keep the floor and tubes of the boat nice and soft
I really can't stress this enough. If you take away one piece of information from what I have to say here, remember this!
Close your eyes and picture this scene: It's mid-September, a brisk breeze is blowing up the Truckee River canyon, but it's still a pleasant, sunny day on the river. You're excited to be here because you thought your raft was going to be tucked away into it's little winter storage spot until the snows start to melt. One problem, you're stuck on yet another rock. Ugh. You're really trying to impress this girl/boy you met at Feather Fest, but you're really not making a good showing here. It just seems like there's more rock than water on this damn river, and this day is starting to get tedious.
What went wrong? Well, at the put in you were so focused on impressing the aforementioned girl/boy by taking your shirt off and showcasing all the muscles you built while boating this summer, you pumped the boat up way too much. As you finish, you flash your most charming smile and put on your best Goldmember accent to say, "Toight like a tiger!" while giving the firm tube a little slap.
When it comes to inflating your craft for a low water situation, less is more. By keeping the tubes and floor of your raft soft, you'll be able to "slurp" over all kinds of rocks that would inevitably get you stuck otherwise. You will be absolutely amazed by what you can get away with!
This being said, I would certainly still recommend making an effort to avoid rocks as your raft will live a longer life if you do.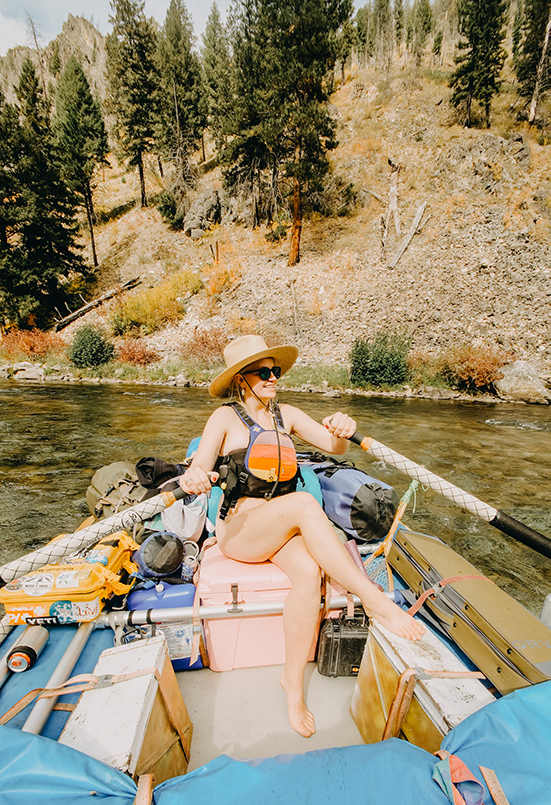 2. When rowing, be vigilant of your downstream oar
As it turns out, when the water is low it can get quite shallow! Who would have thought, right? Take it from me, be real careful about where you place your downstream oar and how deep your strokes are. It's easy to get complacent and take a stroke too deep. Anyone who's done this is familiar with the horrible sound and even worse pain that accompanies your oar's meeting with it's new rocky friend. If you're rowing with oar locks, you can sometimes just roll with the punch and gently guide the oar back into it's little home. When you row with pins and clips, however, jamming a downstream oar can be a truly explosive scenario. I've even heard of people breaking ribs and fingers this way, so be careful!
You might be thinking, "Well how the heck am I gonna get the power to make the necessary moves when I'm rowing through rapids at low water if I can't take a nice, deep stroke??" Luckily, when the water is low, it's also moving slower and less powerfully. My suggestion to you is to take more little, shallow strokes and/or strokes in strategic places where you can see that the water is deeper (eddies behind rocks are generally a good place for this!).
3. Protect your passengers
Low water boating is much like the magical night bus that takes Harry Potter through London in the Prisoner of Azkaban, "It's gonna be a bumpy ride!" (Good lord that was nerdy…) All jokes aside, it's almost never going to be a totally smooth ride. If you have passengers, make sure they're prepared for this. Passengers are particularly in a paddle boat or while standing up to fish, but there are ways to make sure all your folks are cared for.
Paddle boat: Especially with a boat full of passengers who are unfamiliar with whitewater, we all know it's possible for somebody to end up in the water. You can help to avoid this by warning your folks at the beginning of the day that they're liable to get jostled around a bit. Show them the classic "lean in" maneuver, show them good hand holds to grab on to at your command. (Rigging a dedicated grab strap on the center of a thwart will work wonders.) Then let them know that they should only be doing these things when you say so, otherwise you might end up in a sticky situation.
Standing up to fish: My biggest piece of advice for those who are standing up to fish is to get a thigh brace attachment for your frame! Downriver has a great one that I use, you can get it here!! It may seem a bit clunky and hard to remove when you don't need it, but let me tell you those things are worth their weight in gold! Especially when you need to have the floor of the boat a little soft, any angler in your boat will be thrilled to have this setup. Bonus points for a stripping basket! I can't tell you how many times I've tripped over my line when it gets all tangled up in my feet on the floor of the boat. You can get one of these bad boys from Downriver here.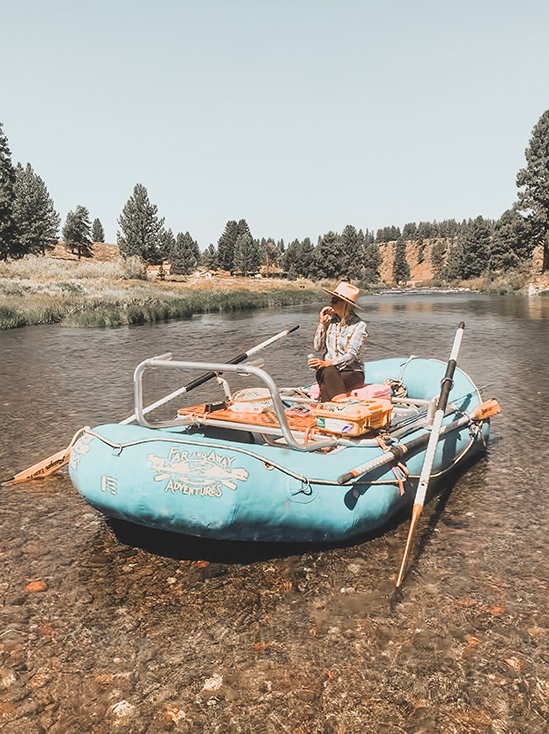 Bonus tip! Go in with a good attitude, be ready to get stuck
How does the saying go? Wherever you go, there you are. Sometimes "there" is nailing a perfect line in a rapid, sometimes "there" is perched on a rock, stucker than that last little chunk of egg on an old frying pan. Take a deep breath, appreciate the scenery, and don't let yourself get too worked up. Pride has no place in low-water boating, you'll have much more fun if you leave it at home.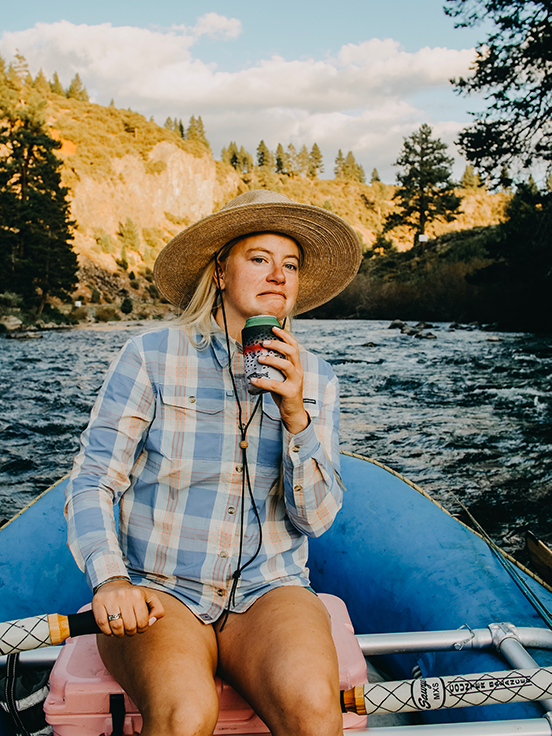 I hope these tips help to encourage you to get out there and do some fall boating! Nothing is better than seeing some early snows and fall colors out there on the river.