Above: Ben throws a few casts from his spinning reel as we take a break from hunting.
It's a balmy 28 degrees as we roll into the put-in, and flurries of little white flakes swirl around us as we pull on extra layers and stomp our feet into our muck boots. We fight with slush-frozen cam straps, and I shove my numb fingers into my pockets after we finally haul the raft off the trailer and into the water.
The October morning holds the bite of winter, but the river is serene and beautiful and nearly empty, save for a few anglers. The water slides by cold and placid beneath us, the oars dipping in and out making the only sound. Gun loaded, we scan the riverbanks and strain our ears to hear our prey: emerald green-headed mallards, red butted mergansers, black-collared redheads, small and wily teal and big, fat geese.
Hunting from a raft can be both rewarding and discouraging. Last year, we bagged two geese and three ducks in a 5-mile stretch of the Colorado. This year, the same section yielded a flock of mergansers that took wing before my shooter was in range and two solitary teals, one that was out of range and one that looped over private land.
Whether you shoot your limit or end up just taking your gun for a chilly float, if you're inclined to try it, here are a few tips to get you started:
• Follow local hunting laws — Before heading out, make sure you have a small-game license and the proper bird stamps to go along with it. Abide by legal hunting hours, which for waterfowl are a half hour before sunrise to sunset, and be aware of shell size and magazine restrictions.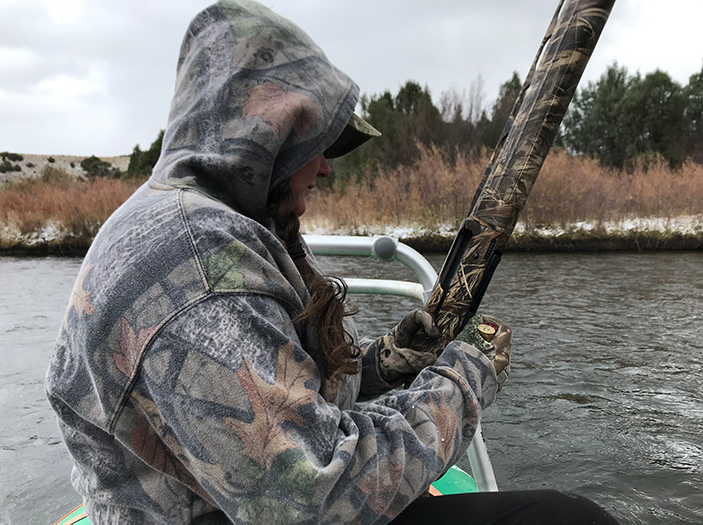 Above: Elise unloads her shotgun as we pass through private lands.
All hunters must complete a hunter education course prior to getting their licenses. Review the Colorado Small Game & Waterfowl guide for additional rules and regulations regarding bag limits and season dates for various species.
• Pack out your shells — On my 14-foot Hyside, I run a four-bay, double-rail Colorado frame with a poly deck across the front. With this setup, I can have two shooters seated side by side on the poly deck, and most of the time, the shells naturally fall into the front of the boat for easy collecting.
On my Mini Max, I run a three-bay San Juan frame with a casting deck and thigh brace. This setup allows for one standing shooter. If that shooter is facing straight ahead, the shells will occasionally fall into the stripping basket, but a better bet is to invest in a shell catcher.
No one wants plastic garbage mucking up our waterways, so if you are on the oars, part of your job is to watch your shooters and keep an eye on where their shells land. Wadding is tough because it's ejected with the shot and near impossible to follow, but if you are able to retrieve your wadding, your river fauna will thank you.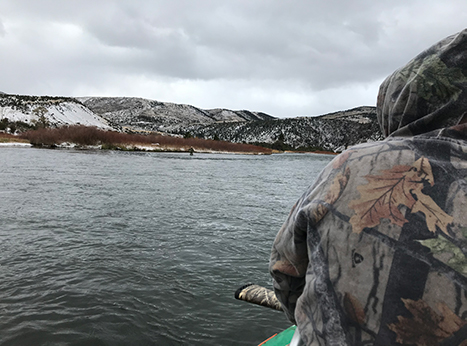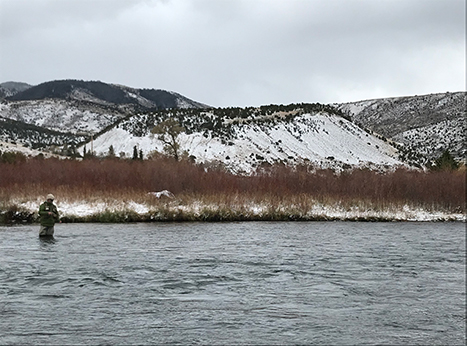 Above left: Elise holds her shotgun in her lap as we pass an angler. Above right: An angler wade fishes the Colorado River on a cold morning in October. Below: Shooting over private lands is prohibited unless you have permission from the land owner.
• Be aware of your surroundings — Depending on where you are floating, other boaters and anglers might not be expecting the boom of a shotgun. Be respectful of your proximity to other river users and cognizant of traveling through private land, where hunting is prohibited without explicit permission.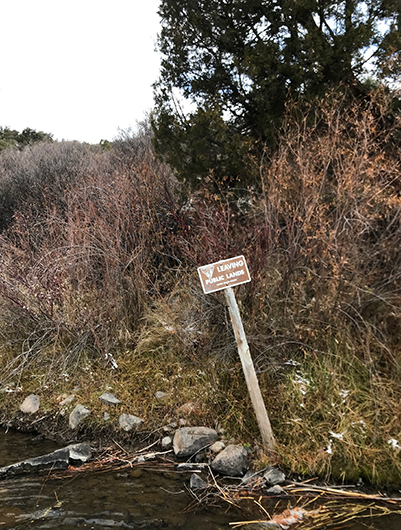 • Bring your fly rod — If you're on a stretch of river that flows through alternating sections of private and public lands, have your rod ready to do some casting where you can't hunt. It'll give you a chance to break out some of your seldom-used midges and eggs and also help you keep your mind off your frozen toes.
• Save your feathers for fly tying. Goose shoulder, quill and biot wing feathers and mallard quill and flank feathers are popular materials for tying wings, legs and tails on nymphs and dry flies. Pluck them and throw them in a tub of borax for a month to dry them out, and then seal them in a zip-top bag and throw the bag in the freezer for storage so you don't get bugs.